In my research I have found out that the Hembree name has changed over the years. Here are some of the spellings that I have come across: Embry, Embury,Embree, Embrie, Emby, Emory, Emry, Hembery, Hembree,Hembry, Hembrow, Hembrough, Hemborough, Hembury. I'm sure there are other spellings, but these are what I have come across so far. If you know of any other changes in our family name, please contact me and let me know. I will share it on this site.

I don't know if it's true or not, but when I was a little girl, I remember a tale about why the Hembree name has changed over the years. I remember hearing that it was changed because some Hembree bootleggers were trying to get away from the law. I have no idea if this is true. It's just a tale I remember from childhood.
If you have any tales, please share them with me. I will add them to this web page.
From: TOBYREDHEAD@aol.com
DATE: Tue, 6 Nov 2001 22:59:47 EST
You may be right about the bootleggers! My family line is from Spartanburg, SC. In a book on the heritage of Spartanburg County the Hembree's are mention as living in Coopertown. According to the author the citizens said the Hembree added the H to their name to use in business. The article also says that bootleggers were run out of town and that the Hembree and Cooper's disappeared and no one knows where they went. I have often wondered if their disappearance coincided with the disappearance of the bootleggers!!! We may be onto something here.
Tammy
| | |
| --- | --- |
| Date: | Wed, 15 May 2002 13:19:16 -0400 |
Hi,
I visited your web page and it is very nice. I noticed one place you mentioned the name changing. My grandmother, Flora Oda Hembree, told me many times that three Brothers changed their name from Embry/Emory/Embree, etc. to Hembree. The purpose of the name change was because they were moving to different locations. And with other families by their actual name that were immigrating to America, they wanted their descendants to know each other when they might meet in the future and know they were kin.
Leota
| | |
| --- | --- |
| Date: | 5/15/2002 5:53:55 PM Eastern Daylight Time |
Hi,
I Was browsing your website and happened upon your comment about the Hembree's running from the law. Don't remember if I told you that one of the family stories I remember hearing about my grandfather Jess Hembree (the grandfather we can't seem to track down) is that he (or possibly his father) was not really a Hembree, that he was running from the law, ended up with a Hembree family and took on that name. The reason for his running from the law varies… some say it was for moonshinin', some say it was for killin' a man (bootlegger). Now I know that my grandfather Jess was a bootlegger, as some of his sons told of helping him when they were young, so who knows?? :))
Phyllis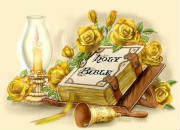 If you can kneel before God,
You can stand before anyone.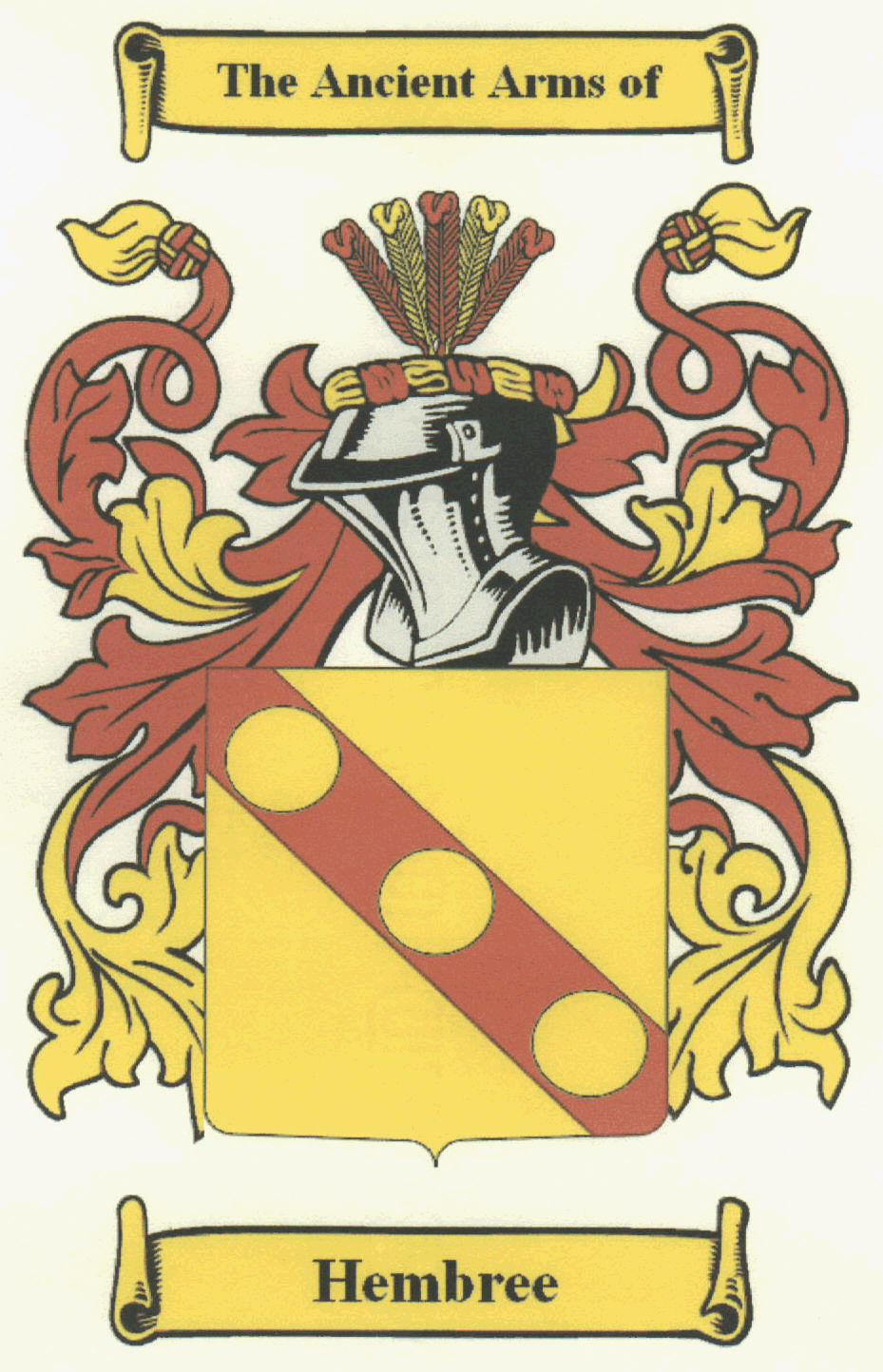 for the Surname…Hembree
Origin: English


Coat of Arms:

A gold shield displaying a red stripe with three discs.


Crest: None.
Spelling variations include: Hembery, Hembry, Hembrow, Hembrough, Hemborough, Hembury,
Hembergh, Hembro, Hembray, Hembree, Hemburry
and many more.
First found in Devonshire, where the name is associated with the parish of Hembury, now Broadhembury, and nearby Hembury Fort which is the largest Iron Age earthwork in Devon.
Some of the first settlers of this name or some of its variants were: Thomas Hembrow, who sailed to Barbados in 1659, Thomas Hembrow to America 1665, Joseph Hembray to Philadelphia, Pa. in 1684, John Hembrough, who settled in Illinois in 1835, Mr. Hembree to San Francisco in 1850 and John Hemburry to Newfoundland in 1877.
Hembree is an ancient Anglo-Saxon surname that came from the Old French personal names Amauri and Emaurri. These are derived from the Old German personal name Amalric, which literally means work-rule. Throughout the Dark Ages, as Rome slowly faded, the written word was preserved by men of the Church. Documents such as the Anglo-Saxon Chronicles were preserved within the sturdy walls of the monasteries. These records have survived to this day in order that we may study the history of this Anglo-Saxon surname, Hembree.
Professional historians have surveyed these records and found the first record of the Hembree surname in Devonshire, where evidence suggests they were seated long before the Conquest of 1086.
From time to time your surname appeared in the records as Hembery, Hembry, Hembrow, Hembrough, Hemborough, Hembury, Hembergh, Hembro, Hembray, Hembree, Hemburry, and these variations would occur between father and son, and even in references to the same person. In the 16th century the playwright William Shakespeare signed his own name with different spellings and legal documents added further to the possible variations. "Shakespeare," "Shakespere," "Shakespear," Shakspere" and "Shaxspere" were all used in reference to this famous individual. In order to explain this phenomenon we must look back to some of the earliest documents written in English. In the 14th century Geoffrey Chaucer, author of Canterbury tales, would spell "told" as "ytold" and "tolde" because at this time spelling rules did not truly exist.
The history of the Anglo-Saxons provides an important backdrop to the history of the Hembree family. The Saxons were a Teutonic tribe of people originally from what is now the Schleswig-Holstein region of Germany. They began to settle in southeastern England in about the year 400 A.D. Over the next four hundred years they forced the ancient Britons to the edges of the island, into Wales, Cornwall, Cumbria and Southern Scotland. The Angles, another Teutonic tribe, occupied the east coast, north of the Saxons. The Angle and Saxon cultures blended together as they came to dominate the country.
At the end of the 10th century the Danes invaded England and the Anglo-Saxon rulers never truly recovered their lost power. In 1066 Duke William of Normandy disputed the royal succession in England and brought an army to enforce his claim. The success of the Normans at the Battle of Hastings brought the final end to Anglo-Saxon rule. However, despite this change of leadership, the culture of the common man in England was an Anglo-Saxon culture.
During their early development, the Hembree family was found in Devonshire, where the name is associated with the parish of Hembury, now Broadhembury, and nearby Hembury Fort which is the largest Iron Age earthwork in Devon. By the 14th century the family branched to Somerset, where John de Hembury and John Hembure were registered in the reign of Edward 3rd (1327-1377). The family also branched to Scotland, where we find Joseph Hembry in Kilbarchan in 1761. Distinguished members of the family include John de Hembury of Somerset, a prominent landholder during the 14th century.
Throughout the Middle Ages domestic trouble was common in England, however, conflicts tended to be localized. Disputes over royal succession, baronial revolts, fear of foreign invasion, and wars with neighbours in Scotland and Wales, all created periods of strife. During much of the 16th century, however, most of these problems had been resolved. Later, the succession of the Stuarts witnessed the beginning of political problems, which affected almost everyone. Conflicts between the king and parliament, and between the Catholics and the Protestants, along with plague and the great fire in London, made the 17th century a turbulent time. In Ireland Oliver Cromwell's soldiers and Protestant settlers were granted lands belonging to Irish Catholic owners. While some of the confiscated lands were returned during the reign of King Charles II, most remained in the hands of newcomers. English families also came to Ireland in search of work created by industries there. For these reasons English surnames appear in Ireland up to the present time. The name Hembree may well have arrived in Ireland with the "Cromwellian Aventurers for Land," in the 17th century. At that time 1,000 acres of land was available to settlers in Ulster for £200, in Connaught for £300, and in Leinster for £600.
Turmoil at home led many families to risk the hazardous journey across the oceans to the newly discovered lands in north America. Yet the New World was no paradise for the earliest English settlers. Early attempts to establish a colony at Roanoke Island, North Carolina met with disaster. In 1591 supply ships found the colony deserted with the fate of the settlers remaining forever a mystery. Migrants bearing the Hembree surname, or a variant spelling of this name, include Thomas Hembrow, who sailed to Barbados in 1659, Thomas Hembrow to America 1665, Joseph Hembray to Philadelphia, Pa. In 1684, John Hembrough, who settled in Illinois in 1835, Mr. Hembree to San Francisco in 1850 and John Hemburry to Newfoundland in 1877.
Some of the immigrants made their way to Canada. Yet, it was not until the American War of Independence that a large number of English speaking settlers made their way to this new frontier. Known as United Empire Loyalists, these migrants from the south numbered approximately 50,000. Settlement in Canada was mainly concentrated in the maritime, St. Lawrence and Great lakes regions until after Confederation, when people began to move west in search of unsettled territory, Soon, Manitoba and British Columbia achieved provincial status. The building of this nation continued with the help of families such as this to become the great country it is today. Contemporary notables of the surname, Hembree, or a variable spelling of this name, include distinguished contributors such as Hugh L. Hembree, American holding company executive and James Hembree, retired chemical company executive.




When the Hembree women get married, their name changes. Most of the time this makes finding information out about them very difficult.
Abbott, Abney, Abrams, Achord, Adair, Adams, Adkins, Agee, Akins, Albertson, Alberty, Alexander, Allen, Allerdice, Allison, Amory, Anderson, Anglin, Ann, Anthony, Armstrong, Arrenton, Arrington, Ash, Ashley, Atchinson, Avery, Ayers.
Babers, Bach, Baggett, Bagley, Bailey, Bain, Baker, Baldwin, Balldon, Ballinger, Banister, Banks, Barcus, Barker, Barnes, Barr, Barrett, Bartlett, Bates, Batteral, Baxter, Bays, Beagle, Beals, Beard, Bearden, Beasley, Beattie, Beatty, Becktell, Beddoe, Bell, Bender, Benton, Bentz, Best, Bice, Bilbray, Bingham, Binning, Birchett, Bird, Blackerby, Blackmon, Blake, Blakely, Blalock, Blankenship, Blanton, Blazer, Blocker, Blythe, Bogart, Bolick, Boshears, Botsko, Bowen, Bowlen, Bowman, Boyd, Bozovich, Bracken, Braden, Bradley, Bradshaw, Brady, Bramble, Branch, Brandenburg, Brannen, Brasher, Brau, Bressler, Brewer, Brigman, Bridges, Broadwell, Brock, Bromfield, Brooks, Broome, Broughton, Brown, Browning, Broyles, Bruce, Bryant, Bryson, Buchanan, Buchner, Buffington, Bunch, Burch, Burchfield, Burnett, Burns, Burris, Burton, Busby, Bush, Butler, Butterfield, Byrd,
Cagle, Cain, Caldwell, Callahan, Callaway, Cameron, Campbell, Cantle, Capps, Carden, Cardwell, Carender, Carpenter, Carradine, Carroll, Carter, Cartright, Cary, Cash, Cates, Cathart, Catherine, Causey, Centers, Chaffin, Chamblee, Chambless, Chandler, Chantaca, Chasteen, Cheek, Cheshire, Childs, Chilton, Chisum, Chitwood, Christopher, Church, Clapp, Clark, Clayborn, Clayton, Clemmons, Clippard, Clover, Coffey, Coggins, Cohran, Coker, Cole, Coleman, Collins, Colvin, Commel, Conley, Connell, Cook, Cooley, Cooper, Corley, Cornelius, Cornett, Cosady, Couch, Countess, Cox, Coyle, Crabtree, Crawley, Creech, Crews, Crisp, Cromwell, Cronings, Cross, Crouch, Crow, Crowe, Crowley, Crownover, Crump, Culham, Cullen, Cullins, Curtis.
Dail, Dailey, Dalton, Damon, Daniel, Darlene, Darold, Daugherty, Davidson, Davis, Davison, Dawkins, Day, Dean, Deaton, Deese, Dekoning, Dennis, Denton, DeRessett, DeRossett, Deshields, Dethrage, Dewberry, Dewes, Dickey, Dicus, Dills, Disney, Divine, Dodge, Dodson, Donaghy, Donson, Dorn, Dorough, Dorr, Dotson, Dougherty, Dove, Dowdy, Draper, Drennen, Dry, Duchamel, Duckett, Dugger, Duke, Duncan, Dunlap, Duren, Dutton, Dyar, Dyer, Dyson.
Eads, Earl, Early, Ears, Edge, Edmunds, Edwards, Elder, Elkin, Ellis, Ellison, Elridge, Elrod, Emery, Emory, England, Engle, Eskew, Estepp, Estes, Evans, Ewens, Ezell.
Fancil, Farley, Farrar, Farris, Fawling, Felton, Ferguson, Fields, Finch, Findly, Finley, Fleinor, Fleming, Fletcher, Floyd, Foler, Fondren, Ford, Fore, Fortner, Foster, Fottenberry, Fouts, Franks, Fraser, Frazer, Fredrick, Freis, Fritts, Fugate, Fuller, Fuson, Fusslell.
Gable, Gaffney, Galloway, Gamble, Gambrell, Gardner, Garman, Garrett, Garrison, Gaston, Gensey, Gentry, Gibson, Gifford, Gillentine, Gillespie, Gilliland, Gilstrap, Ginnendanner, Girdner, Gissendanner, Glasscock, Goad, Godfrey, Goins, Golden, Goode, Goodin, Goodman, Goodpasture, Goodwin, Gordon, Gore, Gorzycki, Gourley, Grade, Graham, Grant, Graves, Green, Greer, Gregory, Griffin, Griffith, Gunier, Gunter, Gurley.
Hacker, Hackney, Haffner, Hagewood, Hainz, Hale, Hall, Hallmark, Halman, Hamby, Hamilton, Hancock, Hannah, Haralson, Harbert, Harbison, Hardy, Harless, Harness, Harper, Harris, Harrison, Harrott, Hart, Hartley, Hartman, Harwood, Haskins, Hassler, Hatch, Hatcher, Hatfield, Hatmaker, Hatton, Hawes, Hawkins, Hawley, Hayes, Headrick, Heaton, Helton, Hembree, Hemphill, Henderson, Hendricks, Henslee, Henson, Herring, Hess, Hickman, Hicks, Higdon, Hill, Hitchcock, Hixon, Hobbs, Hobert, Hoffman, Hogan, Holder, Holifield, Hollingsworth, Holloway, Hood, Hooper, Horn, Hoskins, Hoskinson, Houchin, Houck, Houghtaling, Housman, Howard, Howell, Howeston, Hubbs, Huckabay, Hudson, Hughes, Husser, Hutchinson, Hyde.
Ingle, Ingram, Ireland, Irls, Irvene, Irwin, Isaacs, Isbell, Ison.
Jackson, James, Jameson, Jeffcoat, Jeffers, Jenkins, Jewel, Johanna, Johns, Johnson, Johnston, Jolley, Jolly, Jones, Jordan, Joslin.
Kammer, Karkakas, Kassee, Kay, Keathley, Keaton, Keber, Keener, Keeten, Keeton, Keith, Kelley, Kelligan, Kelly, Kendrick, Kennedy, Kent, Kessler, Kidd, Killer, Killingsworth, Kilpatrick, Kim, Kimbrell, King, Kinney, Kirby, Kirk, Kirkpatrick, Knott, Knowles, Koone.
LaFebree, LaForce, Laird, Lakes, Lamb, Lamunyon, Land, Lane, Langston, Lark, Latham, Lawless, Lawrence, Laws, Lawson, Lay, Lea, Leatherwood, Lee, Le'Force, Leith, Lequire, Lewallen, Lewis, Lindley, Lindsey, Linville, Lisk, Little, Litton, Llewellyn, Lmerrell, Locke, Long, Longcor, Longley, Lopes, Louden, Love, Lovelady, Lovell, Lovett, Lovinggood, Low, Lowe, Lowery, Lowry, Lucas, Luckey, Lumpkin, Lunsford, Lyles, Lyons.
Maddux, Magee, Maghee, Makin, Malcolm, Malicote, Manning, Maples, Marcum, Markham, Marsh, Martin, Mason, Massengale, Massey, Massie, Massingale, Masters, Mathena, Mathes, Matthews, Mauldin, Maxwell, Mayfield, Maynard, McAbee, McCall, McCampbell, McCardell, McCartney, McCartt, McClain, McClellan, McClure, McCormick, McCoy, McCrary, McCurry, McDaniel, McDeerman, McDonald, McEachern, McElreath, McElroy, McFarlane, McFarlin, McGee, McGhee, McGowan, McGown, McGrady, McGrath, McHill, McKane, McKeehan, McKinney, McLarty, McMahan, McMillian, McReynolds, McSwain, McWhorter, Medlin, Medlock, Meeks, Meistschlaeger, Merrell, Miller, Millican, Milligan, Mills, Miner, Mink, Minor, Minton, Mitchell, Moats, Monday, Mondello, Monroe, Montgomery, Montjoy, Moody, Moomaw, Moon, Moore, Moose, Morehead, Morgan, Morris, Morrison, Morrow, Moses, Mosley, Moss, Mostellar, Mounts, Mullenax, Mullins, Murley, Murphy, Murray, Murry, Mustain, Myres.
Nance, Nard, Nash, Nation, Naylor, Neal, Neill, Nelson, Newell, Newman, Newport, Niblet, Nichols, Nickens, Nimmons, Nipp, Nivens, Nix, Nokes, Nolan, Norman, Norris, Northrup, Norton, Nunnally, Nye.
O'Brien, O'Dell, Odom, Ogg, O'Kane, O'Kelley, Olds, O'Neal, Ottesen, Overall, Overcash, Overton, Owens, Ownby.
Paine, Palmer, Parham, Parker, Parrish, Parsons, Partin, Patterson, Paul, Paxton, Payne, Paynter, Pearson, Peavley, Peck, Pell, Pemberton, Pendergrass, Penland, Pennington, Penningtonand, Perkaus, Perkins, Perrin, Perry, Peters, Petrocelli, Pettit, Pharris, Phene, Phillips, Pinnland, Pinrod, Pinyan, Pittman, Pitts, Pody, Poe, Poling, Poovey, Poplin,
Posey, Potter, Powell, Powers, Prater, Prebley, Preston, Price, Prichard, Prince, Prophater, Pros, Pruitt, Putnam, Pyle.
Quails, Queener,
Ragsdale, Rainwater, Randles, Rasberry, Ray, Reagan, Reavis, Rector, Reeder, Remer, Remes, Remmer, Reynolds, Rice, Rich, Richards, Richardson, Richmond, Riddle, Riggle, Riley, Rinker, Roach, Roark, Robbins, Roberts, Robertson, Robinson, Rodgers, Roelker, Rogers, Romine, Rooker, Roper, Rose, Ross, Roukoskie, Rountree, Roy, Ruble, Rucker, Rudder, Rusk, Russell, Ruth, Rutledge, Ryan, Rylee.
Sageser, Salyer, Samples, Sams, Sanders, Sanderson, Sands, Sanford, Saunders, Scalf, Schrader, Schull, Scott, Segers, Seiber, Sellers, Sexton, Seymore, Shannon, Sharp, Shatswell, Shaw, Shearer, Sheldon, Shepark, , Shepherd, Sherard, Shirley, Shoopman, Shuler, Shults, Sifford, Siler, Sillous, Simmons, Simpson, Sims, Sisk, Skelton, Skipper, Slaughter, Slusher, Smallwood, Smelcer, Smith, Snead, Sneed, Snider, Snieder, Snipes, Snow, Sorrow, Sparks, Spearman, Speck, Spence, Spriggs, Stacey, Stamps, Stancil, Standifer, Stansill, Staples, Steed, Stehno, Stephenson, Stewart, Stigler, Stiles, Stillwell, Stockdill, Stockton, Stockwell, Stokes, Storey, Story, Stratton, Strickland, Sturdevant, Suddath, Sullivan, Surrett, Sutton, Swafford, Sweet, Swindle, Swisher, Swofford.
Tabors, Tacke, Tackett, Tallent, Tankersley, Tannreuther, Tate, Taylor, Temple, Teed, Terry, Thacker, Thomas, Thomason, Thomlinson, Thompson, Thornhill, Thornley, Threlkeld, Thwaites, Tidwell, Tinker, Tinney, Tinsley, Tipton, Todd, Tolbert, Tomlinson, Totherow, Towery, Trent, Tribble, Tripp, Trosper, Turman, Turner, Tustin, Tuttle, Tyson.
Underwood, Upshaw, Upton.
Van Burns, Van Shirley, Vandiver, Vann, VanWinkle, Vaughn, Veal, Vess, Vickars, Vickery, Vineyard, Vogel.
Waldrop, Walker, Wallace, Wann, Ward, Warfield, Warner, Warren, Washington, Waters, Watkins, Watson, Webb, Webster, Weedmon, Weir, Welborn, Welch, Wells, West, Wester, Wheeler, Whitaker, White, Whitehurst, Whitworth, Wilhite, William,Williams, Williamson, Williamston, Willis, Wills, Willson, Wilson, Wiltisey, Winkler, Wise, Wisner, Wofford, Wood, Woodard, Woodey, Woodroff, Woodruff, Woods, Woolery, Worley, Worth, Worthington, Wright, Wyatt, Wynn.
Yancey, Yeager, Yeary, York, Younce, Young.
Zayadian.